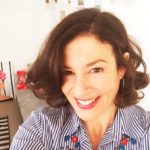 אסנת ליבנת
מומחית ל-Design Thinking
And also (or more importantly):
World traveler
vegetarian
curious
volleyball player
מומחית ל-Design Thinking
Osnat Livnat is a Design Thinking expert and facilitator at SIT. Osnat has vast experience in leading projects and workshops focusing on the Design Thinking method and Human Centered Design in multinational organizations. The Design Thinking method is all about really understanding your customer's relation to your product or service, seeing the motivations and barriers they have. Osnat specializes in raising the voice of the customer, or the customers' point of view with tools from the ethnographic research – in-depth interviews, observations, insights, persona creation, ideation and building new, innovative concepts for those "wicked problems" that companies encounter using various prototyping techniques.
Osnat facilitates worldwide, helping companies and organizations understand their customers and see the world through their eyes using empathy techniques.
When she's not facilitating, she usually checks out the new and hip places in Tel Aviv, and will be more than happy to recommend…
Osnat is a designer at heart. She holds a B.des in Interior Design and M.des in Design Management.

+972 5456029

osnat@sitsite.com

Languages:
English | Hebrew